The Presidential Recall Referendum in Venezuela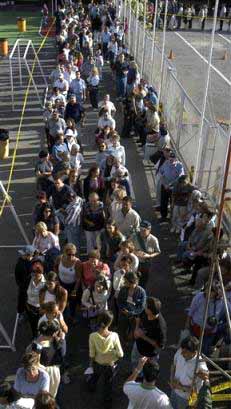 (Associated Press) Venezuelan president en route to defeating recall referendum with most votes counted. By Andrew Selsky. August 16, 2004.
President Hugo Chavez appeared to have survived a popular referendum to oust him, according to early results Monday, while Venezuela's opposition swiftly claimed fraud.

Backers of the leftist populist president set off fireworks and began celebrating in the streets of the capital in the pre-dawn darkness upon hearing the news from Francisco Carrasquero, president of the National Elections Council.

Carrasquero stopped short of declaring Chavez the outright winner. But vote counts he released showed the firebrand former army paratrooper had a virtually insurmountable 58-42 percent lead, with 94 percent of the vote counted.

Carrasquero said 4,991,483 votes had been cast against Chavez's recall, with 3,576,517 in favor.

Haydee Deutsch, an opposition leader, said fraud had been committed and that the opposition "has no doubt that we won by an overwhelming majority."

The first-ever recall vote for a president in Venezuela's history was aimed at putting a lid on years of often violent political unrest and a bloody coup and came after a lengthy and complicated petitioning process. Uncertainty about the future of the world's fifth-largest oil exporter has contributed to record high oil prices, which have reached more than $46 a barrel.

Venezuelans could either vote "no," allowing Chavez to serve out the remainder of his six-year term which began in 2000, or "yes" to recall him. For Chavez to lose, more must have voted against him than the nearly 3.8 million who voted for him in the 2000 presidential elections, and there must also have been more "yes" votes than "no" votes.
(CNN) Recall vote: Chavez claims victory. August 16, 2004.
Hugo Chavez, the president of Venezuela, the world's fourth largest oil exporter, has claimed victory in a popular referendum to oust him.

With 94 percent of the recall vote counted early on Monday morning, 58 percent voted to keep Chavez in office and 42 percent had voted to oust him, said Francisco Carrasquero, president of the election commission.

The result means the leftist populist president will now be allowed to complete the remaining two years of his term.

World oil prices promptly fell from fresh record highs with the result easing fears that unrest could upset the country's oil exports.

U.S light crude oil for September fell 11 cents on Monday to $46.47 a barrel, down from an early peak of $46.91. London Brent was down 39 cents at $43.49 a barrel.

Shortly after the announcement by the election commission, a triumphant Chavez appeared on the balcony of the presidential palace in Caracas as thousands of flag-waving and cheering supporters appeared below.

"Long live the constitution ... of Venezuela," Chavez said. "Long live the Venezuelan people. What a great victory."

But Haydee Deutsch, an opposition leader, told The Associated Press that fraud had been committed and the opposition "has no doubt that we won by an overwhelming majority."

Earlier, millions turned out to weigh in on Chavez's rule -- prompting voting hours to be extended twice.

Voters turned out in record numbers for Sunday's long-awaited referendum on whether Chavez should complete the remaining two years of his six-year term, or be recalled.

Voting was first extended from 5 p.m. to 8 p.m. ET (0000 GMT), but with thousands of people lined up to cast ballots on whether to keep Chavez in office, officials extended balloting until midnight.

Chavez, a former army officer, was elected president in 1998 with overwhelming support of the country's poor, but many people in the middle and upper classes call him a budding tyrant.

They accused him of steering Venezuela toward communism and of riding roughshod over the nation's democratic institutions.

The country has been wracked by anti-Chavez demonstrations for more than a year, and opponents managed to collect enough signatures to force a recall vote in June.

For Chavez to be recalled, at least 3.76 million Venezuelans needed to have voted to remove him -- the number of votes the former paratrooper won in 2000, when he was re-elected to a six-year term.

Analysts had said the opposition faced an uphill battle with estimates showing that only 4 to 5 million of the nation's 25 million people were vehemently anti-Chavez. Opponents collected 2.4 million signatures to force the recall vote.

Former U.S. President Jimmy Carter, whose Carter Center is among international groups monitoring the referendum, called it "the largest turnout I have ever seen."

"Thousands of people in line are waiting patiently and without any disturbance, and the voting that we have observed so far is going very well," he said.

Some voters waited as long as 10 hours before being able to cast a ballot, and independent observers said the outcome was too close to call.

One woman was killed and 12 people wounded by a man in a shooting at a Caracas polling place, the city's fire chief told CNN. He described the man as "deranged," and said there was no other reports of violence.

Chavez cast his own vote early in the day and repeated his promise to respect the outcome, even if that meant he must step down.

Larry Birns, director of a Washington-based think-tank called the Council on Hemispheric Affairs, said Chavez's support was centered among the 18 million to 19 million Venezuelans who were poor.

Even if Chavez lost, he could probably have run again within 30 days in the next election, Birns said.
---
(New York Times) Venezuela Votes by Large Margin to Retain Chávez. August 17, 2004.
Venezuelans voted overwhelmingly to keep President Hugo Chávez in power, electoral authorities and international monitors said Monday. But a strident opposition movement refused to accept the results of the recall referendum, raising prospects for more turmoil in Venezuela, the world's fifth-largest oil exporter.

Mr. Chávez, a pugnacious leftist populist who has already survived four national strikes and a brief coup, won handily after 8.5 million of Venezuela's 14 million registered voters swarmed polling stations in voting that began at 6 a.m. Sunday and ended well past midnight.

"The Venezuelan people have spoken and the people's voice is the voice of God!" said Mr. Chávez, holding a microphone and standing in a balcony of the Miraflores presidential palace in a predawn address. His victory eased world oil prices, which had been buffeted by concerns that a successful recall, and the ensuing violence that some expected, could disrupt production at the state oil company, Petróleos de Venezuela.

With 95 percent of ballots counted, Francisco Carrasquero, the president of the National Electoral Council, announced early Monday that Mr. Chávez had the backing of 58 percent of the voters, against 42 percent for the opposition. Mr. Chávez drew nearly 5 million votes, while the opposition collected fewer than 3.6 million.

As of Monday night, opposition leaders had not backed off from their charges that a "gigantic fraud" had occurred. Anti-government protesters threw rocks at a group of pro-government demonstrators, who witnesses said pulled out guns and fired shots that killed a 62-year-old woman and wounded several others.

But the Organization of American States and the Atlanta-based Carter Center - monitors invited by the government and opposition to validate the outcome - said the results were legitimate .

"There is a clear difference in favor of the government of President Chávez," former President Jimmy Carter, who heads the Atlanta-based Carter Center, said at a joint news conference with César Gaviria, secretary general of the O.A.S. and a former president of Colombia.

The two men explained that the "quick counts" their organizations conducted at various polling stations coincided with the outcome released by the Electoral Council. The quick counts, used in elections around the world, tally totals from various polling sites, have a margin of error of 1 percent and are more accurate than exit polls.

"We have found the information from the quick count was almost exactly the same as that presented" by the electoral authorities, said Mr. Carter, 79, whose organization has monitored elections in 51 counties. He added that "all Venezuelans should accept the results of the C.N.E.," the electoral body, "unless there is tangible proof that the reports are incorrect."

Shortly after the polls closed at midnight, opposition leaders were quick to predict victory. So when the computerized voting system used in the election tabulated the results, showing the government had clearly won, the two of five electoral board members who side with the opposition were stunned, according to diplomats who were in the room at the time.

Opposition leaders who met with Mr. Carter and Mr. Gaviria were further surprised when the monitors told them they believed the count was just, and that their own samples confirmed the outcome.

Mr. Carter, in a meeting with five American reporters Monday afternoon, said that two or three of the opposition leaders in the two-hour meeting became "extremely irate."

"Their faces were white and they were very condemnatory of our lack of objectivity and fairness," Mr. Carter said. Others, like the opposition's best-known leader, Enrique Mendoza, were clearly astonished and remained quiet, he said.

Soon after, Henry Ramos, a spokesman for the Democratic Coordinator, the umbrella of 27 opposition political parties, announced, "We categorically reject the results."

"They have perpetrated a gigantic fraud against the will of the people," he said.

Recent polls had indicated that Mr. Chávez would squeak to victory, though political analysts had hesitated to predict the outcome, saying the polls' results were too close to call. As it turned out, Mr. Chávez's fervent supporters - mainly people from the poor barrios who believe he is the first president to speak for them - voted overwhelmingly in his favor.

"The opposition has to recognize Chávez is our leader, that he has virtues," said Guadeth Peña, 35, who turned out to celebrate Monday at the presidential palace. "Venezuela has changed. The people are not ignorant like the opposition thinks. We are no longer blind. We will not longer be fooled."

Mr. Carter, in his meeting with the American reporters, expressed concern that the leaders of the Democratic Coordinator had not accepted the results and were instead insisting the vote was fraudulent because of exit polls opposition organizations had conducted.

Those polls, Mr. Carter said, "are quite unreliable," and have a high chance of being biased. "I wish they would accept the results," he said.

Mr. Carter and Mr. Gaviria said that there could be some discrepancies in the final tally, but fraud was all but impossible. They said that they would look into fraud claims, if proof were presented.

Mr. Chávez, in his early morning address after it was clear he had won, was relatively conciliatory toward the opposition, which in the past he has called "squalid ones" and a "rancid oligarchy."

"This is a victory for the opposi tion," he said. "They defeated violence, coup-mongering and fascism. I hope they accept this as a victory and not as a defeat."

Mr. Carter said that he had talked to Mr. Chávez about the need to patch together a relationship with the opposition as well as scaling back his verbal outbursts against the Bush administration.

Mr. Chávez has declared himself at odds with nearly all facets of American policy in Latin America, such as its military aid to neighboring Colombia and efforts to expand free trade agreements across the region. Although he has said repeatedly that Venezuela will continue providing oil to the United States, in recent months he had stepped up attacks on President Bush, whom he accused of backing the opposition.

The new lease on power of Mr. Chávez, a former army paratrooper and coup plotter, ia a pivotal event in a country that has been roiled by protests since he first won election in 1998 promising to overturn the old social order, ease life for the poor and punish the corrupt elite the president's followers said plundered this country. But his leftist policies and sharp attacks on his political opponents have alienated Venezuelans who contend Mr. Chávez is taking Venezuela toward tyranny and ruin.

The results of the referendum mean that Mr. Chávez will finish the two years left of his term, which began with his re-election in 2000. Mr. Chávez's government pledged that it would continue with its so-called Bolivarian revolution, named for the hero of the country's independence wars, Simón Bolívar, purging elites from institutions and funneling hundreds of millions of dollars into health and social programs.

Buoyed by high oil prices that have left Venezuela awash in cash this year, Mr. Chávez's government worked for victory by embarking on a $1.7 billion social spending program. It also spent handsomely on a campaign that frightened many Venezuelans into believing that a yes vote to recall Mr. Chávez would be a vote for American imperialism and the corrupt political parties that ruled this country in the past.
---
(Venezuelanalsysis.com) Chavez Wins Big and the Opposition Refuses to Recognize the Obvious. By Gregory Wilpert. August 17, 2004.
Chavez won and he won big. According to preliminary results, which have been ratified by all international observers, the lead over the opposition was about 15% - 58% in favor of Chavez and 42% against. Of course, the opposition, as a result of being misled by some of their leadership, is convinced that Chavez managed to steal 3.5 million votes in the most transparent, secure, and fair vote of the country's history. Not only that, it broke its promise to recognize the results if international observers ratify it. What happened?

In few countries in the world would ten million people stand in line for up to ten hours, in the blazing sun, to cast a simple ballot that merely says "yes" or "no." The long lines, however, were unnecessary. The National Electoral Council (CNE) miscalculated terribly, thinking that it could manage the anticipated large turn-out, the 2.5 million new voters, and voting technology that Venezuela had never used before. Originally the CNE had intended to increase voting centers, since the poorest neighborhoods, the barrios, had as few as one tenth the voting centers per capita as some middle class neighborhoods. The plan, however, was scrapped out of fear that people would not know where to vote and due to a lack of time. It thus was no surprise that these "mega voting centers" had to field kilometer-long lines and 12-hour waits in some cases.

Despite the general enthusiasm to vote, voting centers where there were technical problems and the lines thus were especially slow, citizens began to lose their patience and blamed the other side, the opposition or Chavistas, on the delays, saying that this was a coordinated plan of the other side. The main bottleneck did turn out to be the fingerprint scanners that were supposed to prevent people from voting more than once, using false identification cards of other voters. However, the reason the fingerprint checking slowed things down had nothing to do with technology. It generally took much less time to check one's fingerprint (about 30 seconds) than to sign-in at the voting table. The reason it slowed the process down was that apparently an exceptional number of people assigned to staff the fingerprint scanners never showed up. Thus the lack of operational scanners slowed the process down tremendously.

Other than the delays, the voting as a whole proceeded smoothly and, unusually for Venezuela, with hardly an incident. The only serious incident, if one can call it that, was the spread of rumors, from relatively minor ones that suspected the other side being responsible for the delays, to perhaps the most serious one, which said already at noon that Chavez was losing 60 to 40.

But how could anyone know that? The answer is exit polls. In the days leading up to the vote, the opposition coalition Democratic Coordinator had announced that it would present results of its exit polls in the course of the recall referendum day. The Carter Center and the OAS, however, supposedly managed to convince the opposition and the media not to present exit polls before voting had concluded. Nonetheless, the opposition, via various important spokespersons, spread the rumor, particularly to any journalist who would listen, that Chavez was losing, according to "very reliable sources." At one 1am the Democratic Coordinator even sent out an e-mail to foreign correspondents, making this claim.

A closer examination of their exit polling technique, however, seems to show that it was extremely unprofessional. Voting centers in the wealthy Altamira district, for example, had up to twenty pollsters, while not a single one was spotted in the barrios. If Sumate, the main organizer of the opposition's polls, had been truly interested in making their polls credible, it should not have released its results early on in the form of rumors, thus contravening rules against doing so, and it should publish its methodology, to prove it did not merely poll in neighborhoods that tend to support the opposition.

Rather than being an accurate and honest measure of how people voted, the exit polls appear to have had the function creating a public opinion climate among observers, media, and the international community, which would help the opposition to discredit the official results once they were released.

When the official results were released, at about 4 am in the morning, electoral council president Francisco Carrasquero read off the results, saying that the "no" vote, against the recall of president Chavez, had gathered 58.25% of the vote and that the "yes" vote, in favor of the president's recall, had gathered only 41.75% of the vote.

However, another interesting opposition strategy to prejudice the results had already been put into place. Days earlier the opposition insisted that the CNE release the results as early as possible and even threatened that if they did not, they would release their exit polls instead. So, when, three hours after most voting centers had closed, the CNE did announce the results, pro-opposition electoral council board members said that they rejected the preliminary results essentially because they felt they were rushed. Thus, the combination of the pro-opposition board members' rejection of the preliminary results, the highly questionable exit polls, and the absolute conviction among members of the opposition that Chavez would lose, ended up convincing the opposition that the results were fraudulent.

Immediately following the electoral council announcement of the preliminary results, a group of opposition leaders said that they did not believe the council's results and that their exit polling data indicated that the opposition had won, 59% to 41%. So, even though the electoral council is supposed to be the country's final arbiter over elections results, everyone was now anxiously waiting to hear what the international observers had to say, specifically the Carter Center and the Organization of American States, which had the largest and most sophisticated delegations in the country.

Finally, about ten hours after the electoral council had announced its first results, former US president Jimmy Carter and OAS General Secretary Cesar Gaviria held a press conference and released the tension by telling the country what they thought of the results. They stated unequivocally that they agreed with the electoral council's figures for the referendum: Chavez had won with a lead of about 15% over the opposition. Carter, when asked how he reconciles this with the opposition's statements, said, "All Venezuelans should accept the results, unless the results are wrong, and we have not received any evidence for that." The OAS and Carter Center reached their conclusions not just by failing to observe any evidence of fraud, but they conducted their own "quick counts" of selected voting centers, which verified the official results.

However, the opposition still says that there was fraud. Fraud not just of a minor sort, where a close vote against a candidate is turned into a close vote in their favor, but a massive fraud, where a 20% win for the opposition was supposedly turned into a 15% loss. That would mean a theft of 3.5 million votes (35% of 10 million) – a presumably unprecedented amount in the history of elections.

Opposition websites and statements from opposition leaders are now full of claims that a massive fraud has been perpetrated. The amazing thing about such a claim is that the opposition does not have even the slightest shred of proof or even circumstantial evidence for making such a claim. Their entire claim is based on their own highly questionable exit polls. (The pro-government campaign also conducted exit polls, by the way, which reflect the official results.) So the opposition is now demanding that the vote be audited down to every single paper ballot. In principle, some pro-Chavez electoral officials have indicated a willingness to do so.

In all of this one should keep in mind that the voting machines and the entire voting procedure are designed in such a way that if there had been fraud committed, the point at which it occurred would be detected almost immediately. The system is filled with redundant security mechanisms, including printed ballots, which would immediately show exactly where the vote had been altered.

It appears that the most likely consequence will be that the opposition will divide into a sector that will continue to insist that there was fraud and one that will recognize the reality of their loss and will work with the government. The sector that continues to insist on fraud will probably be made up of small parties that have little to lose, either in the upcoming regional elections or in business with the government, such as La Causa R, Primero Justicia, and Movimiento al Socialismo. The ones that will work with the government or will at least recognize the results, are the chamber of commerce and Accion Democratica, which is one of the few parties that still has a chance to win posts in the regional elections. There is a third sector of the opposition, the radical far right, which is the sector that has sponsored terrorist attacks and paramilitary activity within Venezuela, which will probably use the fraud claims of the small parties as an excuse to re-launch their violent campaign.

Despite all of this, the Chavez government has been re-legitimized and is now stronger than ever. The opposition has now not only lost its military base, due to the coup, its oil base, due to the oil industry shut-down, but now it will have also lost every last shred of credibility if it continues to insist that it won the recall referendum.
---
(El Universal) Coordinadora Democrática rechaza resultados officiales del CNE. August 16, 2004.
El dirigente Henry Ramos Allup, en representación de la Coordinadora Democrática, anunció al país que la alianza opositora rechaza categóricamente los resultados anunciados por el Poder Electoral en el primer boletín preliminar, que dan como ganadora del revocatorio a la opción del No.

Al mismo tiempo, Ramos Allup dio a conocer las cifras que maneja la Coordinadora Democrática, las cuales son las mismas proporcionadas por la organización Súmate "del estudio directo de las actas", aseguró el dirigente de AD.

Estos números son "distintos a los anunciados por los 3 rectores oficialistas". Estas cifras dan la ventaja al Sí con el 59,4% y el No quedaría con un 40,6%.
So the opposition rejects the CNE results on the basis of the exit polls performed by Súmate. Please read the story in Venezuelanalysis.com about the Súmate exit poll; you may also want to refresh your memory about the work done by Súmate to collect signatures in order to get this referendum. Súmate does not inspire confidence.
Here are some more details of the claim:
(Vheadline.com) Coordinadora Democratica (CD) claims electoral fraud; refuses to accept results. August 16, 2004.
Opposition Coordinadora Democratica (CD) spokesman, Henry Ramos Allup, has rejected the preliminary official results announced for yesterday's Presidential recall referendum and says that he will turn over evidence of electoral fraud committed by the Chavez Frias regime in its efforts to cling onto power.

CD leaders say they are in complete agreement with objections lodged by opposition-faithful CNE directors Ezequiel Zamora and Sobella Mejias who have claimed "irregularities" in the process of scrutineering the vote audit.

Ramos Allup says that "the Coordinadora Democratica wants to express its absolute support of Sobella Mejias and Ezequiel Zamora ... our numbers, as held by our technical teams directed by Sumate, are completely different from those announced by the government-supporting CNE directors."

"According to our information there were 8.5 million voters for "SI" (Yes) representing 59.4% of the electorate against 40.6% for the NO option ... we must first check the figures ... the announced results are not admissible, and the numbers quoted by the three government CNE directors are disgracefully spurious."
Apart from the percentages of the SI versus NO vote, Henry Ramos Allup is claiming that the total number of votes cast is 14.3 million (of which 8.5 million or 59.4% is for SI and 5.8 million or 40.6% is for NO). The CNE voter registry contains 14,245,615 voters, of which 215,587 of them are foreigners (and cannot vote in the presidential recall referendum) so that only 14,037,900 eligible persons can vote. However, Henry Ramos Allup said that Súmate counted 14.3 million voters on Sunday. ASTONISHING!
By comparison, the CNE has counted 94.49% of the automated machine votes which total up to 8,568,000. The projected total number of automated machine voters is therefore 9,0676,262. There is about another million paper ballots which have to be counted separately. The final total number of voters should be just over 10 million, which is 4 million short of Súmate's total. This can be easily audited at a later point in time. In all likelihood, the Súmate exit polls yielded a percentage that was then applied to the total number of registered voters. The omission of abstentions displays a profound ignorance of the voting process.
---
President Jimmy Carter: Venezuela Election Trip Report, Aug 13-18, 2004

By Jimmy Carter
19 Aug 2004
After leaving Georgetown, I arrived in Caracas in the evening of 8/13 and was briefed by Ambassador Shapiro, Jennifer McCoy, Francisco Diez, Rachel Fowler, and other staff members of The Carter Center. I gave them an assessment of my visit to Guyana, and they reported high tensions in Venezuela with the approach of the referendum revocatorio scheduled for 8/15. The next morning I met with Organization of American States Secretary General Gaviria, with former presidents Raul Alfonsín and Eduardo Duhalde, both of Argentina, Belisario Betancur of Colombia, and Rodrigo Carazo of Costa Rica, and then our Carter Center staff to discuss our common approach to our monitoring duties.
Excluding the presidents, our group then met with President Chavez for about two hours. He appeared quite confident but pledged to resign immediately if he should lose the referendum vote and said in that case he would rest for a week and then resume campaigning for re-election. Toward the end of our meeting, I called on him to be gracious in victory, to make every effort to reunite the divided country, and to let us help in establishing a forum for dialogue between the government and opposition groups. He did not respond directly but was very quiet while I spoke and then said he had always wanted the nation to be united. Subsequently, he said he needed to spend more time with me and asked if we could have lunch together on Monday.

We then visited the National Electoral Council headquarters (CNE), where many of our questions were answered, including some about last minute personnel changes in the local polling places and election workers, and our access to all aspects of the voting procedures. In general, we were satisfied. We then met with military leaders, whose forces have always played a major role in elections. The minister of defense finally agreed to abide by all CNE directives and to cancel the military's plan to examine all voter ID cards, which may be seen as intimidation.

Our next meeting was with opposition leaders, where we heard a litany of catastrophic predictions about cheating, intimidation, and actual violence planned by the government for election day. We reported on the assurances we had received from CNE and the military, which answered most of their concerns.

Gaviria and I then had an overflow press conference, where we were able to answer many questions that had been raised about our freedom as observers and about rumored plans of the CNE and military. Our last meetings of the day were with state-owned and privately-owned news media. The latter group predicted that there would be violent attacks on their property and said that government military forces would not protect them. I promised to share their concern with the minister of defense, and he honored my request to strengthen security.

We were out early on election morning and were amazed at the incredibly large turnout, with thousands of people waiting in line an hour before polls were scheduled to open. Venezuela has a system of electronic voting (with a paper ballot backup) and voters' thumbprints are recorded electronically, transmitted by satellite, and compared almost instantaneously to prevent multiple voting. A "No" vote supported Chavez, and a "Yes" vote called for his removal from office. Starting was somewhat slow, but 99.5 percent of the voting machines were on the line by 10:30 a.m. Some of the fingerprint operators did not report for duty, but this was not permitted to interfere with voting. The great waiting crowds were in fine spirits, cheering loudly everywhere we showed up.

During the day, the opposition leaders presented to us and their supporters what turned out to be erroneous exit polling data that showed Chavez losing the vote by 20 points or more, and they also sent this information to their own people and to foreign news media. However, the news media honored the CNE ruling against broadcasting any kind of alleged voting results domestically. In the meantime, long voter lines remained intact past the 4 p.m. closing time, past an extended 8 p.m. closing time, and until midnight, when they finally closed. A few people voted as late as 3 a.m.

At about 12:30 a.m., we and OAS leaders were invited to witness the disclosure of the first electronic tabulation, which showed "No" votes at 57 percent and "Yes" votes at 43 percent among the 6.6 million votes counted at that time (of 10.5 million expected to vote). Gaviria and I decided to invite the private media owners and other opposition leaders to my hotel suite to let them know about this and to tell them that this was compatible with our own quick count results. The media owners and some of the opposition said they would accept our judgment while others were angry. We urged them to check their own sample voting results and stated that we would obtain updated figures next morning before making a public declaration of our judgment. We were in Venezuela to remain neutral, to observe the electoral system, and to make a careful and sound final assessment regarding whether the will of the people is expressed. Chavez called me, and I urged him to wait on any claim of victory until after a CNE public announcement and to be generous and positive in his victory statement. He promised to do so.

Finally, after three hours, we offered to the still irate opposition leaders our services in resolving any of their remaining doubts before we had to leave (after two more days). Having insisted all during election day on a 20 point defeat for Chavez, their pollster (Súmate) admitted before leaving that their data now showed only a five point defeat and that quick count data were still being received. Early the next morning, they reported that these results were reversed, with 55 percent supporting Chavez, but opposition leaders still were claiming massive fraud and a victory for their side. Final voting results, including the centers with manual ballots, showed 59-41 in favor of Chavez, with his victory in 22 of the 24 states.

Gaviria and I had another press conference early in the afternoon on Monday to confirm the legitimacy of the CNE returns. I called Secretary of State Colin Powell to report our authentication of results, and he promised to issue a statement from Washington endorsing our findings.

On Monday, we had supper with Chavez and found him eager to begin substantive dialogues with responsible opposition leaders who are willing to reciprocate. We urged him to show generosity to Súmate and some others who are being accused of crimes going back to the coup against him and to ensure a balanced membership of CNE as local and state elections are planned late in September. He was receptive to these suggestions and supported an additional audit of electronic paper ballot backups from the machines that would assuage any remaining doubters.

Although the country was peaceful, some opposition leaders were still in anguish, as indicated by Tuesday morning newspaper editorial headlines, "Catástrofe," "El Fraude Permanente," and "Serias Dudas." After meeting with Súmate and other opposition representatives who claimed there were differences between paper ballot backups and electronically transmitted results, we agreed to have a second audit process to double check the correlation. We made it clear to them and to the public that this did not imply any doubt by The Carter Center or OAS regarding the integrity of the electoral process or the accuracy of the reported results.

After making these arrangements, we met with Catholic bishops and then had a final supper with a group of about 20 empresarios.

Jennifer McCoy and Rachel Fowler stayed in Caracas to oversee the second audit of the machines that we will do with the OAS and the CNE.
---
(Miami Herald) There needs to be good-faith acceptance of the results. By Jimmy Carter. August 23, 2004.
One of the primary goals of modern society is to enhance a worldwide commitment to democracy. With so many national differences concerning preferred electoral processes, it helps to have a general definition of a democratic government. The dictionary says that it is ``a government in which the supreme power is vested in the people and exercised by them through a system of representation usually involving periodically held free elections.''

The Carter Center now monitors an average of five troubled democratic elections each year -- so far, a total of 51. Our prerequisites for involvement are:

• To be invited by all major political parties and by the central election commission.

• To be assured that electoral procedures are fair and balanced among candidates and applied according to the law.

• To be convinced that without our presence the election might not be successful.

A crucial requirement for inspiring trust is that we always remain absolutely neutral among competing candidates. It is also necessary for us to understand the complex interrelationships among the competing political contenders and be able to detect any fraudulent practices or intimidation that might subvert the free will of the citizens.

Our largest national challenge has been helping with the establishment of democracy in Indonesia, with elections held last month and five years earlier, following decades of dictatorial rule. Perhaps our most intriguing involvement has been a series of elections and referendums held in Venezuela during the past six years. In both these cases, despite gloomy forecasts, the election processes have been honest and transparent, and the results have expressed the will of the people.

In 1998, Hugo Chávez was elected president of Venezuela when the two major political parties had fallen into disrepute after dominating the governments for 40 years. There was a subsequent referendum to approve a new constitution and then, in 2000, another nationwide election for local, state and national offices. Chávez prevailed by close to 60 percent in both presidential elections, which were judged by us to reflect the will of the people, but a strong opposition force remained determined to remove him from office.

We criticized the constitutional referendum for being too rushed to allow debate, and we said that some of the national legislative and local election outcomes in 2000 were uncertain given irregularities and poor audits. We did not question the presidential election, however, with its wide vote margin.

With tacit approval from Washington, a military coup against Chávez was successful in April 2002, and the U.S. government immediately recognized the anointed leader. But an aroused Venezuelan public and condemnation of the coup by Mexico and other Latin American governments resulted in Chávez being restored to office after two days in custody. The next attempt to depose him was with a series of nationwide strikes that shut down oil production and almost destroyed the nation's economy. The government survived, but the political confrontation continued.

In January 2003, I proposed that a peculiar provision in the new constitution be implemented that provided for the people to decide in a referendum whether Chávez should leave office or complete his term. Both the opposition and the president agreed to abide by this decision, and the Organization of American states joined The Carter Center in reducing tension, ensuring communication between the contending political groups, monitoring the gathering of necessary petitions and observing a recall referendum.

The vote in Venezuela two Sundays ago was the culmination of this process, and a large number of other international observers were invited, including Latin American presidents and members of the U.S. Congress. Because of intense distrust expressed by the opposition, extra care was taken to ensure secrecy and accuracy of the voters' decisions. An electronic voting and tabulation system was developed by a Venezuelan-American consortium led by SmartMatic. It permitted touch-screen voting, with each choice backed up by a paper ballot that was examined by the voter and then placed in a sealed box. We international monitors assured that the machines were tested in advance, and observed the voting nationwide.

At the end of the voting day, results from each of the 20,000 machines were certified by poll workers and party observers and transmitted on telephone lines to central election headquarters in Caracas. All paper ballots were retained under military guard in the local regions. As predicted by several public-opinion polls and also confirmed by our independent vote tabulation, Venezuelans once again expressed support for Chávez, this time by a 59 percent to 41 percent margin. He will now serve the remaining 2 ½ years of this term (and be eligible for reelection).

A post-election audit conducted to ensure that there were no significant disparities between the electronically transmitted data and the results obtained from counting paper ballots supported the official results.

Our responsibilities are never ended when the final votes are counted. There needs to be good-faith acceptance of the results by both winners and losers, and some degree of reconciliation if distrust or disharmony is deep. Especially in the case of Venezuela, it will be necessary to establish a dialogue between the government and the antagonistic opposition leaders. We have already begun this effort. Dr. William Ury, a world-renowned expert on mediation, will represent our center in Venezuela to pursue this goal.

Regardless of whether foreign governments approve or disapprove of a political decision made by citizens of a sovereign and democratic country, the only legitimate recourse is to honor the decision, to cooperate whenever possible and to promote possible leadership changes through democratic means.
---
Related posts: Opinion polls and exit polls.
---